Theo Theodoulou
(Muay Thai Instructor)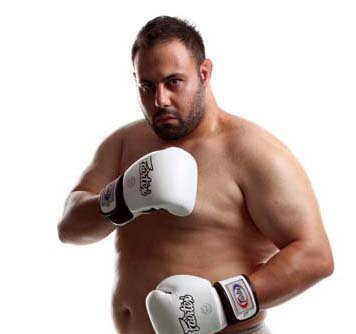 Theo Theodoulou is the Nova Forca Muay Thai coach. He has been training for seventeen years having started at the tender age of ten. His wealth of experience has been passed on since the age of eighteen when he started his own classes evolving his own style of teaching and training.
His first instructor was Master Boonckun and Kru johnny boon but over the years he has also trained with many notable exponents of the art including Master A, Master Toddy, Master Pimu, Master Sken, Master Lec amongst others. He is also well-versed in Krabi-Krabong, or traditional Thai weapons, having studied under Master Tony Moore.
Since Seventeen Theo has been active on the competition circuit fighting on shows such as Ring Masters and fighting for British Titles.
About one year after Ricardo had been teaching at Sleeping Storm Theo decided to attend his class with the sole aim of entering the world of Mixed Martial Arts. He realized that he would need to be educated in the submission fighting to compliment his Muay Thai before he could make his MMA ambitions a reality. Now a brown belt and regularly competing in grappling competitions Theo is a true convert of the grappling game. While his classes teach traditional Thai, his learnings from the world of grappling have been directly translated to his teaching and training where he has modified many techniques to be MMA specific. With a number of students competing regularly in MMA this has been an invaluable transfer of knowledge